EghtesadOnline: The dollar strengthened and Treasuries fell as Federal Reserve Vice Chairman Stanley Fischer said the U.S. economy was close to full employment, reinforcing speculation that policy makers are moving toward raising interest rates.
The Bloomberg Dollar Spot Index climbed to a three-week high as Fischer, who last week suggested that interest rates may rise as soon as September, said Tuesday in a Bloomberg Television interview that officials can choose the pace of rate increases based on economic data. Benchmark stock gauges in Asia and Europe advanced, emerging markets rebounded and crude oil hovered above $47 a barrel. Apple Inc. fell after being ordered to repay a record 13 billion euros ($14.5 billion) plus interest in the European Union's largest tax penalty.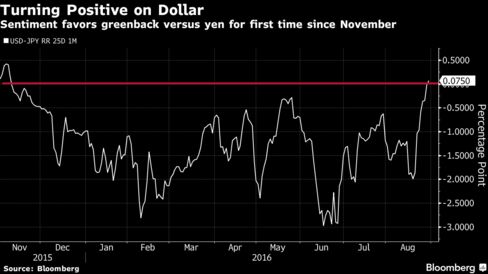 Speculation the U.S. will raise interest rates this year surged over the past two weeks, boosting the dollar, as Fed officials including Chair Janet Yellen said the case for tightening policy is getting stronger. After a report on Monday showed consumer spending rose for a fourth month, investors will be looking at data on consumer confidence on Tuesday and monthly payrolls figures later in the week to judge if the economy is strong enough to support higher rates, according to Bloomberg.
"The dollar is likely to stay on a firm footing into the Friday payrolls report, but we'll need to see a solid set of numbers for gains to be sustained beyond that," said Ned Rumpeltin, the European head of currency strategy at TD in London. "I think it would take a very strong jobs report -- complete with robust wage growth numbers -- to put September really on the table."
Currencies
The Bloomberg Dollar Spot Index advanced 0.2 percent as of 7:07 a.m. in New York, paring some of its gains. The U.S. currency strengthened 0.2 percent against the euro and 0.4 percent versus the yen, which was trading at 102.34 per dollar.
"The work of the central bank is never done, and I don't think you can say 'one and done' and that's it," Fischer said, when asked if a solitary rate increase was possible. "We choose the pace on the basis of data that's coming in."
Fed funds futures ended Monday indicating a 36 percent chance that the Fed will raise rates in September, up from 24 percent a week earlier, and Fischer has said U.S. payrolls figures on Friday will be key to the central bank's decision making. The report is projected to show employers added 180,000 jobs this month, following a gain of 255,000 in July.
Prospects for higher U.S. rates has prompted options traders to turn bullish on the currency versus yen for the first time since November. One-month 25-delta risk reversals show that call options on the dollar cost seven basis points more than put options, a sign more investors expect the dollar to rally than to weaken. Put options on the dollar had traded at a premium throughout this year.
The pound fell for a fourth day against the dollar as a report showed U.K. mortgage approvals slumped to an 18-month low in July and consumer borrowing slowed following Britain's vote to leave the European Union. Sterling weakened 0.2 percent to $1.3087, and was 0.1 percent weaker versus the euro.
South Korea's won rose 0.5 percent versus the dollar, the best performance among 16 major currencies.
Stocks
Banks, technology shares and automakers led the Stoxx Europe 600 Index up 0.5 percent. Banca Popolare dell'Emilia Romagna SC and UniCredit SpA advanced more than 2.8 percent, sending Italy's FTSE MIB Index 1.6 percent higher for the biggest gain among western-European markets. The U.K.'s FTSE 100 Index was little changed, reopening after a holiday on Monday.
Contracts on the Nasdaq 100 Index lost 0.3 percent, while futures on S&P 500 Index were little changed after the gauge rallied the most in three weeks on Monday.
Apple fell 2 percent in early New York trading. The European Commission said the iPhone maker benefited from a "selective tax treatment" in Ireland that gave it a "significant advantage over other businesses." Apple and the Irish government have both vowed to fight the decision.
Mondelez International Inc. climbed 3.2 percent in early New York trading after saying it's walking away from takeover discussions with Hershey Co. two months after its $23 billion bid was rejected by the chocolate maker. Hershey sank 12 percent in late trading on Monday.
The MSCI Emerging Markets Index advanced 0.6 percent, rebounding from a three-week low. Energy shares led gains, while benchmarks in Hong Kong and India climbed more than 1 percent. The Bloomberg GCC 200 Index of Gulf stocks rose for a third day as oil advanced.
Bonds
The yield on U.S. government debt due in a decade increased by two basis points to 1.58 percent, after dropping seven basis points on Monday. The rate on two-year notes increased by one basis point to 0.82 percent.
The Fed is "likely to tighten in September, at least as long as the jobs number comes in OK," Michael Pond, head of global inflation market strategy at Barclays Capital Inc. in New York, said on Bloomberg Television. "Hawkish Fed rhetoric has certainly increased recently. It'll take a decent number, like 200,000, for them to go."
U.K. longer-dated bonds were supported before the Bank of England's latest purchase operation as part of its expanded quantitative-easing program. Thirty-year gilt yields fell two basis points to 1.25 percent.
"There are real doubts over how many sellers will turn up," Ciaran O'Hagan, head of European rates strategy at Societe Generale SA in Paris, wrote in a client note.
Commodities
West Texas Intermediate crude was up 0.7 percent at $47.29 a barrel. U.S. stockpiles probably increased by 1.5 million barrels last week, according to analysts surveyed by Bloomberg before official data due Wednesday. Oil explorers discovered just 2.7 billion barrels of new supply in 2015, the smallest amount since 1947, and this year's tally is on track to be even smaller, according to figures from consulting firm Wood Mackenzie Ltd.
"We've had a big rally and a bit of a dip but oil has been resilient, holding comfortably above $45 a barrel," said Angus Nicholson, a market analyst in Melbourne at IG Ltd. "We've seen a lot of jerky trade based on various rumors associated with the OPEC meeting and I'm sure that will continue."
Gold fell 0.3 percent to $1,319.66 an ounce, putting it on course for the seventh loss in eight sessions as a stronger dollar made the metal less attractive in countries outside the U.S. Central banks, the biggest holders of bullion, cut their purchases by 40 percent from a year earlier in the last quarter to the lowest since 2011, World Gold Council figures compiled by Bloomberg show. Copper erased earlier gains of as much as rose 0.7 percent in London. Zinc dropped 0.8 percent.