EghtesadOnline: The pound dropped to a three-decade low against the dollar amid mounting investor concern that the U.K. is heading for a so-called hard Brexit.
Sterling fell beyond its post-vote low and is down against 30 of its 31 major peers since Prime Minister Theresa May's weekend announcement that Britain would trigger its exit from the European Union in the first quarter of 2017. Declines have extended since May was said to refuse to prioritize the protection of the financial-services industry in negotiations with the EU, according to Bloomberg.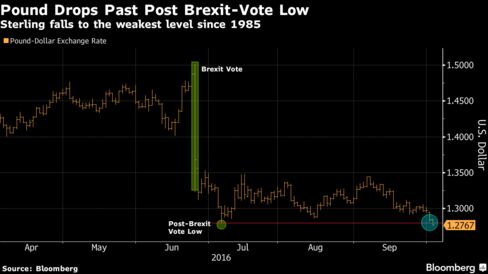 "We have the market facing the reality that Brexit is about to begin and we could be faced with hard Brexit," said Jane Foley, a senior currency strategist at Rabobank International in London. There are also reports that "the government may not make any exceptions for the financial sector and that is just lacing the concerns the market already has about the outlook for growth, investment and jobs in the U.K. economy."
Sterling fell 0.5 percent to $1.2781 as of 8:42 a.m. in London, and touched $1.2757, its weakest level since 1985.
During the first day of the Conservative Party's annual conference in Birmingham on Sunday, May promised to curb immigration and set a date for Britain to trigger Article 50, which starts a two-year withdrawal process. While that removed one risk that's been hanging over U.K. businesses, the British Prime Minister failed to provide further clarity on what leaving the EU will actually look like.
The pound has fallen 14 percent versus the dollar since the British people voted to quit on June 23, and just completed its worst quarterly run of losses since 1984, with five straight declines. While that move has become a focus of the post-vote angst in the U.K., it's not necessarily bad news for everyone. The weaker currency may cushion the economy by boosting exporters, and the decline has also buoyed the nation's stock market, with the FTSE 100 Index surpassing 7,000 for the first time in 16 months on Tuesday.