EghtesadOnline: When Xi Jinping addresses business elites at Davos, the Chinese president will find himself an unlikely champion of the trade-based global order Donald Trump has derided. His new role could prove to be one of his biggest tests.
On Tuesday, Xi will become the first Chinese head of state to address the World Economic Forum, a speech a top diplomat said would give a "blueprint for the future progress of human society." His remarks in the Swiss ski town come days before Trump's inauguration as U.S. president, after an election that called into question America's commitment to free trade and threw the business world into a bout of soul-searching, according to Bloomberg.
Xi's presence marks a chance to cement China's clout after decades of U.S. economic and military dominance. Facing a more protectionist, inward-looking Trump administration and a disruptive British exit from the European Union, Xi has been offering assurances that the world's largest trading nation will defend the structures that have fostered globalization and economic growth.
What remains to be seen is how far Xi will go toward filling any gap left by Trump on the world stage.
Even Xi, with his regional trade initiatives and goal of a "great rejuvenation of the Chinese nation," has hewed closely to his predecessors' policy of avoiding foreign entanglements. China also lacks experience in global governance to back up its economic heft, leaving it without potential tools to match any bigger ambitions.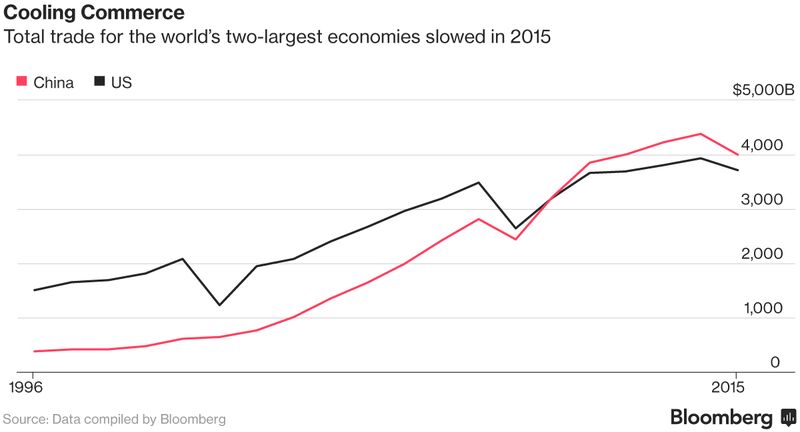 "They have to take advantage of it," James Goldgeier, dean of the School of International Service at American University and a former director of Russian, Ukrainian and Eurasian affairs at the National Security Council, told a recent forum in Singapore. "They have to be in a position where they can take advantage of that. And we have yet to see whether that will prove to be the case."
Xi faces two big distractions in presenting China as trade's most reliable defender. Trump's attacks on China's trade and currency policies may compel him to retaliate with protectionist measures and hurt foreign investment. He must also navigate domestic challenges, including mounting corporate debt and a looming reshuffle of his top leadership ranks that could spur a more nationalistic response to U.S. prodding onissues like Taiwan.
The imperative is high: Economic growth has been relatively weak around the world and China's days of supercharged expansion are over. A major trade spat between the two biggest economies would only slow things further. Global trade has grown by just over 3 percent annually since 2012, according to the International Monetary Fund. That's less than half the average expansion rate in the previous three decades.
Xi's speech comes as Trump preaches economic nationalism with promises to build walls, tear up trade agreements, raise tariffs and upend core security alliances. In an interview published Sunday by Germany's Bild and the Times of London, Trump calledthe North Atlantic Treaty Organization obsolete and portrayed the European Union as a tool of German domination.
'Human Progress'
In contrast, Xi plans to stress openness and international cooperation. Doing so accentuates China's role in global economic and political affairs for his domestic audience. Vice Foreign Minister Li Baodong told reporters last week that Xi may even get a bit philosophical.
"He will tackle some major questions such as, 'Where did mankind come from? Where are we? Where are we going?'" Li said. "And he will draw a blueprint for the future progress of human society."
While Trump's moves such as rejecting a U.S.-led Pacific trade pact have helped China promote competing measures, the country must overcome wariness among its neighbors about its territorial ambitions. That could create a PR problem for Xi in filling a power vacuum if the U.S. pulls back in Asia, even as China pours money into infrastructure in the region.
Trump Challenge
Yan Xuetong, a member of the Chinese Commerce Ministry's consultation committee, doubts Xi could usurp American authority during Trump's term. "Trump will be a big, big challenge for China to become a global leader," said Yan, also director of the Institute of International Studies at Tsinghua University in Beijing.
Still, business leaders in Davos, fatigued by populist headwinds across Europe and the U.S., will be eager for Xi's reassurances about keeping the capitalist lines humming. Xi will bring with him the biggest-ever delegation of Chinese executives to visit the WEF gathering.
"We're absolutely thrilled because if there's one leader that all of our CEOs and international leaders are wanting to hear from is his excellency, President Xi Jinping," the WEF's China representative David Aikman told a briefing in Beijing. China has been sending delegations since 1979.
Guest List
Xi will be accompanied by executives from China's biggest and most far-reaching companies, including Alibaba Group Holding Ltd. founder Jack Ma, Dalian Wanda Group Co.Chairman Wang Jianlin and Huawei Technologies Co.Chairwoman Sun Yafang. Ma and Wang are China's two richest people, with net worths of $34.7 billion and $31 billion respectively, according to the Bloomberg Billionaires Index. They rank 15th and 21st globally.
"Over the years, there are more and more Chinese politicians, entrepreneurs and diplomats showing up in Davos," said Wu Hougang, chairman of Chinese fishery group Zhangzidao Group Co., who will be attending Davos again this year. "In 2012, most of them were listeners at the floor, but more and more have stepped up to the stage and give speeches."
China Inc. has itself gone global, buying up foreign assets from soccer clubs to Hollywood studios at a record pace last year. Xi's entourage, including port and rail companies, also reflects his priorities to win influence by reviving ancient trading links between Asia and Europe via infrastructure projects.
China meanwhile is pushing the Asian Infrastructure Investment Bank to build clout in poorer countries by cleaning up shanty towns and building waterworks, assuming a role once reserved for organizations led by the U.S. and its allies.
Perhaps Xi's biggest concern is that Trump delivers on promises to further reduce a $254 billion trade deficit with China through punishing tariffs and other measures. His government has already hinted it would respond by targeting U.S. companies and investment. It's the kind of scenario that could severely hurt China's own economy.
"Trump's policies remain unclear, but one thing very clear is that he will damage economic relations between China and the U.S. and that will also damage China's economic outlook," said Shi Yinhong, a foreign affairs adviser to China's cabinet and director of the Center on American Studies at Renmin University in Beijing
In the end, that risk might play biggest on Xi's mind.
"China is taking advantage of the geo-strategic vacuum, but the world should definitely not expect too much from Beijing," said David Shambaugh, director of George Washington University's China Policy Program. "China remains a very self-interested power, with minimal means and willingness to get involved in addressing and solving the world's chronic and pressing problems."