Mobile Telecommunications Co. Saudi Arabia, a unit of Kuwait's Zain, obtained a $600 million loan from Industrial and Commercial Bank of China Ltd., replacing a facility of that size it signed with regional banks two months ago, the Riyadh-based telecom company said Tuesday in a statement. The two-year dollar loan, which may be extended by another year, will cut costs by about 175 million riyals over the full period, according to Bloomberg.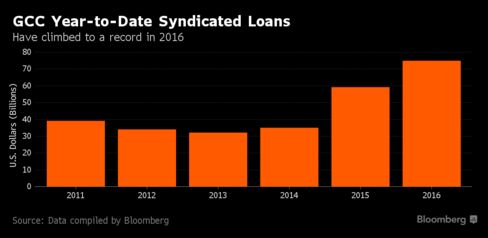 Chinese banks are boosting lending in the world's biggest oil exporting nation as the kingdom strives to bridge the widest budget deficit in more than 20 years. ICBC also lent state-owned Saudi Electricity Co. $1.5 billion in June to fund projects and provided $950 million to the Saudi government as part of the country's $10 billion loan in May, according to data compiled by Bloomberg.
China's broadest measure of new credit and another key gauge of lending increased at the
slowest pace
in two years in July, suggesting monetary authorities are more concerned about swelling financial risks than giving a boost to old growth engines. Curbing financial risks has increasingly become a policy priority after economic growth stabilized in the second quarter.
"Loan growth in China will slow from double-digit levels, which means that banks are looking at international markets for growth," said Anita Yadav, the head of fixed-income research at Emirates NBD PJSC, Dubai's biggest bank, by phone from Dubai. "Telecoms is like a utility business and investing in the industry in Saudi Arabia would be reasonably safe."
Lending Surges
Syndicated loans in the six-nation Gulf Cooperation Council, which includes Saudi Arabia and the United Arab Emirates, have surged in 2016 as governments seek to bridge deficits caused by oil's decline. They've risen 26 percent to $74.8 billion, the highest since at least 2005, when Bloomberg began collecting data.
ICBC has jumped to be the ninth-biggest provider of syndicated loans in the GCC this year, while it was ranked 54th in 2015, according to the data. It was also a lender to Kuwait's Equate Petrochemical Co KSC's $5 billion syndicated loan in June and a 2.25 billion euro loan ($2.54 billion) to Qatar National Bank SAQ in May.
Zain Saudi had raised the riyal facility from Arab National Bank, Banque Saudi Fransi, Gulf International Bank and Samba Financial Group in June, replacing a similar loan from the same group.
Other lenders from China are also boosting credit in the region. Bank of China Ltd. is ranked 12th on the GCC syndicated loans table this year, according to data compiled by Bloomberg.