According to Bloomberg, the government is seeking to plug a hole in its finances by withdrawing deposits and selling local currency bonds to lenders in monthly auctions. The country, grappling with lower oil prices, raised 98 billion riyals ($26 billion) from bond sales to domestic institutions last year, with that figure probably set to rise to about 120 billion riyals in 2016, according to Saudi Fransi Capital.
That's draining funds from the system, reflected in interbank rates in Saudi Arabia that are at their highest since 2009 and which climbed 15 straight days through Monday. In addition, the loan-to-deposit ratio has exceeded central bank limits for the past two months, even after the country boosted the percentage of its deposits that a bank can lend earlier this year.
"The authorities are struggling to find an effective way to boost liquidity," Asim Bukhtiar, the head of research at Saudi Fransi Capital, said by phone from Riyadh. "Any liquidity injection is just being pulled back out by the monthly government bond issues."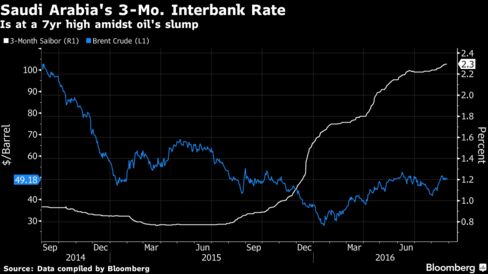 The three-month Saudi Interbank Offered Rate, a key benchmark used for pricing loans, rose to 2.308 percent on Aug. 29, its highest since January 2009, according to data compiled by Bloomberg. The Saudi Arabian Monetary Agency increased the limit that banks can lend to the equivalent of 90 percent of deposits, up from 85 percent, people with knowledge of the matter said in February. That figure rose to 90.5 percent in July, according to monthly data released by SAMA, as the central bank is known, even after the regulator offered $4 billion to banks in late June, people with knowledge of the matter said.
The kingdom may raise more than $10 billion from its first international bond sale in October, people with knowledge of the matter said.
Rate Rises
The central bank "is conscious that Saibor has gone up materially and it will increase the cost of funds for local companies and crimp economic growth," said Anita Yadav, head of fixed income research at Emirates NBD PJSC. "They have to do something to manage this liquidity."
The increase in the loan-to-deposit rate will probably prompt Saudi authorities to increase the limits further, Yadav said, though a planned international bond issue will bring in some money from outside the country and may relieve some of the pressure, she said. Liquidity conditions in Qatar have improved after the government raised $9 billion from an international bond issue, Doha Bank Chief Executive Officer Raghavan Seetharaman said today in an interview on Bloomberg Markets Middle East.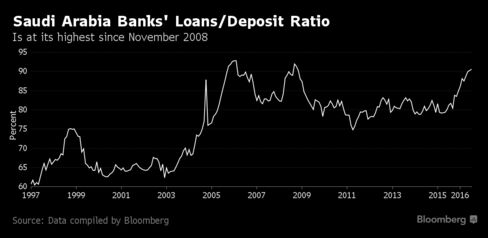 "Any moves to further ease the loan-to-deposit rate may only improve things for another six months before the banks hit the limit again," Saudi Fransi's Bukhtiar said.