The presumption that the presidential race is over — and that current administration polices will remain mostly unchanged — helps explain why U.S. stocks have performed well over the past two months, as risk assets like equities tend to do better in the run up to blowout contests, according to Bloomberg.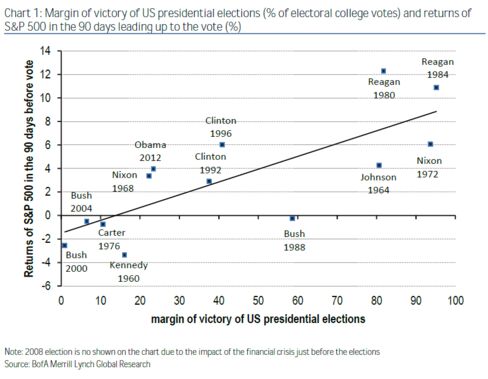 Source: Bank of America
"The S&P 500 has gained more than 4 percent since July 5 (the start of the 90 trading day countdown to November 8)," writes Woo. "To put it into perspective, the last time stocks did better at this halfway mark was 1984 when Ronald Reagan went on to win a historic landslide victory against Walter Mondale."
Meanwhile, the Iowa Electronic Markets pricing suggests it's likely that the election will result in a split Congress. The baseline scenario in that case, says Woo, is for President Hillary Clinton to be working with a Democratic Senate and Republican House of Representatives come January 20, 2017.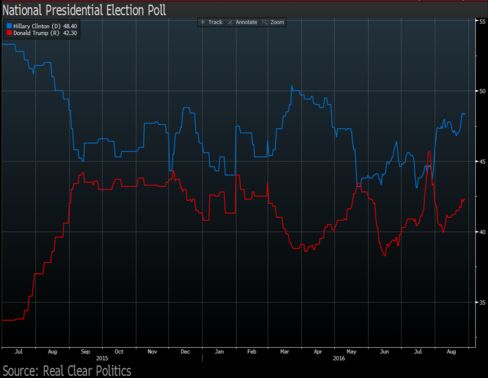 Source: Bloomberg
This combination "likely means gridlock, the continuation of policy paralysis in Washington that has been the norm since the Democrats lost the House of Representatives in the mid-term elections of 2010," he writes. "If this scenario materializes, the experience of the past six years suggests there is little chance of a major change in the fundamental economic policies of the most important country in the world in the foreseeable future."
The market's complacency about the continuation of the fiscal status quo, according to the strategist, is best illustrated by the subdued levels of three-month and one-year implied volatility for the U.S. dollar relative to the euro.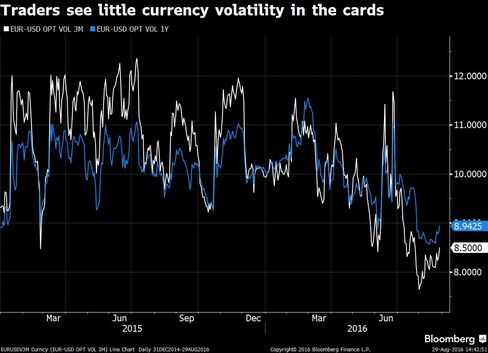 Source: Bloomberg
Woo writes that betting on a decline in the Aussie dollar versus the greenback using put options is attractive ahead of the elections. While a Clinton presidency looks like a foregone conclusion right now, the home stretch in presidential campaigns often sees the race tighten, like national polls did in 2004 and 2012.
During an interview on Bloomberg TV, Woo warned that a clean sweep in the election — with either party controlling both branches of government — could cause acute stress for risk parity portfolios, one of the hottest investment strategies in 2016. These portfolios typically include a long, levered position in Treasuries and a long position in stocks. The ensuing fiscal expansion in the election from either Clinton or Trump, working with a cooperative Congress, could bring about a rise in interest rates and a rally in the U.S. dollar that causes risk parity to underperform.
"In our view, if the market is not underestimating the probability of a clean sweep, it is certainly underestimating the magnitude of fiscal easing in the event of a clean sweep," concludes Woo. "We cannot remember the last time the rates and the currency markets have so much at stake in the outcome of a U.S. election!"