While stressing that the central bank was "not actively considering" such steps, she told a Fed symposium in Jackson Hole, Wyoming, on Friday that "they are important subjects for research."
Yellen said monetary policy makers currently have sufficient tools to handle economic downturns "under most conditions." Those tools include asset purchases and so-called forward guidance in which the central bank promises to keep interest rates low, according to Bloomberg.
"That said, these tools are not a panacea, and future policy makers could find that they are not adequate to deal with deep and prolonged economic downturns," she told the conference sponsored by the Kansas City Fed.
A major factor behind the need for a potential rethink: the low level of the neutral interest rate, the short-term rate which neither stokes nor slows economic growth. Yellen said some calculations indicate that it's now close to zero in inflation-adjusted terms.
"It could remain at this low level if we were to continue to see slow productivity growth and high global saving," she added.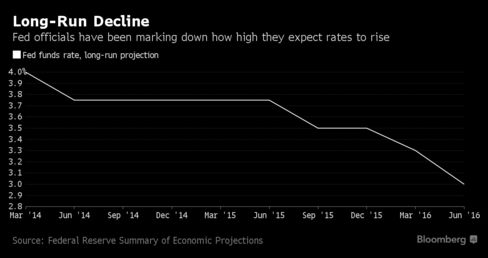 A low neutral rate constrains how high the Fed can lift rates without harming the economy and thus gives it less room to cut them in a downturn.
The Fed adopted a 2 percent inflation target in January 2012 and except for a brief period that year, it has fallen short of achieving that goal. Prices, as measured by the personal consumption expenditure index, rose 0.9 percent in the year ended June.
Some economists, such as professor Laurence Ball of Johns Hopkins University in Baltimore, have called on the Fed to raise its target to 4 percent. Others, such as Scott Sumner of Bentley University in Waltham, Massachusetts, argue that the Fed should adopt a goal for the growth of nominal gross domestic product, rather than focusing on a price index.
They contend that such a switch in strategy would promote a stronger economic expansion by encouraging consumers and companies to spend more. That would allow the Fed to eventually raise interest rates to higher levels.
New Frameworks
San Francisco Fed President John Williams said in an essay this month the central bank should consider new monetary policy frameworks, such as adopting a higher inflation target or switching to a flexible price-level or nominal output targeting system.
Former Fed official Roberto Perli said it could be years before the Fed reaches a consensus on whether to raise its inflation target or switch to another objective.
"This is a serious issue and has to debated until they are really sure it's the right thing to do," said Perli, a partner at Cornerstone Macro LLC in Washington.
Yellen "is opening the door" for the eventual consideration of new policy options for the Fed, said Laura Rosner, senior U.S. economist at BNP Paribas in New York. "What's significant to me is that negative interest rates aren't on that list."
While Yellen didn't specifically mention negative rates, which have been employed in Japan, the euro area and elsewhere, she did suggest that a future Fed could weigh buying assets beyond those that it has purchased to date.
Fewer Constraints
In carrying out monetary policy, the Fed currently can buy U.S. Treasury debt and securities issued or guaranteed by government-sponsored agencies such as Fannie Mae or Freddie Mac.
Other central banks are less constrained. The European Central Bank earlier this year began buying corporate bonds, while the Bank of Japan purchases a variety of assets, including exchange-traded equity funds.
"Future policy makers might choose to consider some additional tools that have been employed by other central banks, though adding them to our toolkit would require a very careful weighing of costs and benefits and, in some cases, could require legislation," Yellen said.
She suggested that a future rethink of economic policy should not be confined to just the Fed. Fiscal policy makers, for instance, could beef up so-called automatic stabilizers in the budget that provide support to the economy when it weakens.
"Finally, and most ambitiously, as a society we should explore ways to raise productivity growth," Yellen said. "Though outside the narrow field of monetary policy, many possibilities in this arena are worth considering," including improvements in education and worker training, more investment in research and reduced regulatory burdens.